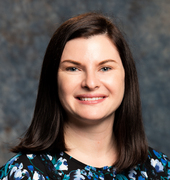 Tamara Zey is a native of Overland Park, Kansas. She graduated from the University of Central Missouri with a Bachelor of Science in Nursing. After graduation she gained clinical experience on telemetry, medical surgical, and rehabilitation units. After several years of experience, she decided to pursue an advanced degree and enrolled in the Family Nurse Practitioner program at Graceland University, graduating with honors in 2019. She is a certified Family Nurse Practitioner credentialed by the American Nursing Credentialing Center. She joined Spokane Allergy and Asthma Clinic in October of 2020.
Tamara works closely with our physicians at Spokane Allergy and Asthma Clinic. She loves to educate her patients and feels this is an important aspect of her job, as she believes it is imperative for patients to understand their health condition as well as their treatment plans. She is an active member of the American College of Allergy, Asthma & Immunology and the American Academy of Nurse Practitioners.
Tamara and her husband live in Liberty Lake, Washington with their three children. In her free time, she enjoys spending time outdoors with her family and traveling.